Wide variety of Hardwood Flooring in Sydney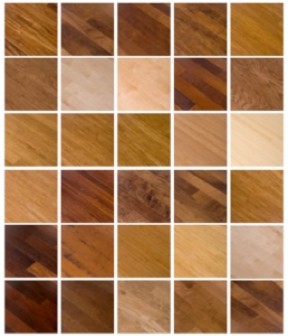 Wide variety of Hardwood Flooring in Sydney
Blackbutt – blondish to pale brown with a straight grain
Brush Box – pinkish grey to rich reddish brown with an interlocked grain
Blue Gum (Sydney) – dark pink to red brown with a straight or slightly interlocked grain
Forest Reds – red in colour with an interlocked grain
Grey Gum – rich red in colour with an interlocked grain
Jarrah – dark red with a slightly interlocked grain
Mahogany –

rich,

brown-red colour
Red Gum

– red to reddish brown

Red Iron Bark – dark red with an interlocked grain
Southern Blue Gum – pale brown with an interlocked grain
Spotted Gum – pale to dark brown or chocolate with a variable grain
Turpentine – reddish brown with an interlocked grain
Western Australian Karri – pale pink to reddish brown with an interlocked grain
When it comes to selecting the timber flooring species don't be fooled that the name of a Species is all you need to know.
You need to see, feel, smell the timbers in our Warehouse and walk on them in our Showroom.
Getting good quality Australian hardwood timber flooring requires knowledge only a specialist will have. Long established relationships with Australian Mills is our difference we know where the timber is being sourced from.
Did you know not all Australian hardwoods are hard

.

Young trees do not make good floors. Want to know why? we can tell you.

Timber is a natural product, it is hygroscopic. What that means is timber expands and contracts depending on influences like – the seasons, humidity, heat, direct sunlight, wind and even just the natural movement caused by the dynamics of the grain of the timber in each individual timber board. The level of movement can vary between any or just one part of your product and also varies between the species of timber.
We take the stress out of selecting your timber by buying from established Mills Australia wide that produce only the highest quality kiln dried hardwoods.
Read about John Bruker in Timber Trader news on page 31 & 32 here
YEARS OF
EXPERIENCE
 in the flooring industry Timber Floors Pty Ltd is your premium destination for all your timber flooring needs. Specialising in solid Australian Hardwood timber flooring and Staircases. We sell Direct to Public | Builders |Carpenters |Trade
It was a pleasure to meet you on Saturday. Many thanks for sharing your knowledge and experience with us. We left your showroom feeling assured that you will do a good job. Floor supplied & Installed 22.10.08
David Camperdown
Australia
We would like to thank you for all your help, advice and patience with us. We really appreciate how much you have done to meet our needs, including being flexible around our tight schedule, and amendable to our wishes, particularly at this time of year.
Mr & Mrs W - West Pennant Hills
Australia
After my discussions with both John & Rex Bruker, I have the utmost confidence & assurance that I have chosen firstly, the right species of timber (Grey Gum), and secondly and most importantly, the right people to undertake this important aspect of the construction of my home.
Mr. S - Horlsey Park
Australia
You are
10 minutes away from the
Help you need
Contact our office on 9756 4242 or just come on by, no appointments are necessary we are open 6 days, see our large range of timber flooring and staircase products. 
Contact Us
Looking to bring out the natural beauty in your timber floors?

7 Jumal Place, Smithfield NSW 2164
Trading Hours
Give us a call today for a free consultation and handy, same day quote.

Monday - Thursday : 8.00am to 5.00pm
Friday : 8.00am to 1.00pm
Saturday : 10.00am to 1.00pm
Copyright © 2019 Timber Floor. All rights reserved.